Over her 25+ years in the Palm Desert area, Terri Munselle has frequented some of the best restaurants the area has to offer. Here are some of Terri's top restaurants in Rancho Mirage and the surrounding areas where you can best enjoy food and wine.
1. Wally's Desert Turtle
Wally's Desert Turtle has won more awards than nearly any other restaurant in the desert. The name may raise some questions, but rest assured that the experience is nothing short of memorable and extravagant. Murals adorn the walls and reflect off of the mirrored ceiling. Ancient artifacts are scattered throughout the restaurant to fully set the scene and prepare each guest for the luxury and enjoyment that lies ahead. The French-inspired menu features dishes such as roasted pheasant breast and venison strip loin. Seafood options include lobster ravioli and Dungeness crab. Their wine list includes numerous choices, and you can even order a wine flight if you can't narrow down your options to one specific selection. They have live music playing most nights to make your experience even more divine. The restaurant can sometimes close down for an extended season during the summer, so you'll want to plan your visit in advance to ensure that it's open. You likely won't find a table without a reservation, so make sure you call ahead to schedule your visit.
2. Shame on the Moon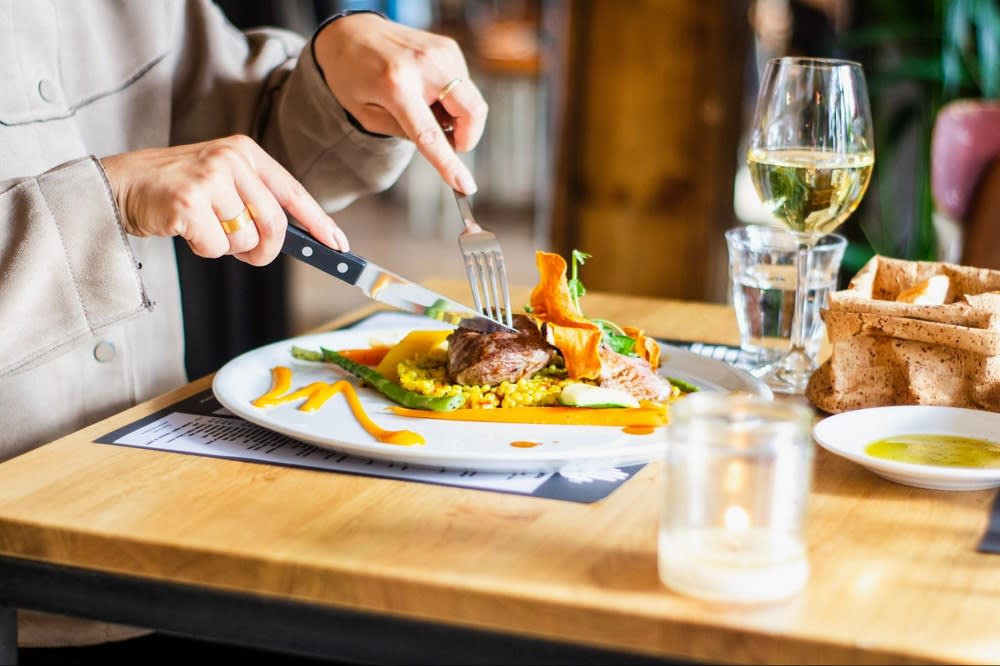 Recent Diners' Choice award-winning restaurant Shame on the Moon serves delicious American-style cuisine for dinner every night except Mondays and Tuesdays. The restaurant is located on Frank Sinatra Drive off Highway 111. Start the experience with the Jumbo Shrimp Cocktail or the Crab Cakes. From there, choose between entrees such as the Northern Atlantic Salmon or the Filet Mignon. Their wine list includes excellent choices from locations like Napa, France, and Italy. They also serve delicious pasta dishes such as chicken ravioli and kale. Guests can enjoy the experience in their elegant dining room or on their outdoor patio. Call ahead or visit the website to schedule your reservation.
3. Si Bon
Si Bon has a fully stocked bar that serves imported beers and wines. These drink choices pair perfectly with their Belgian-inspired menu. Si Bon is open daily from 8 am to 8 pm. On Fridays and Saturdays, they usually remain open until 9 pm. Lovers of sweet breakfasts will rave about their chocolate chip pancakes and the Belgian-style French toast. They also have several delicious crepes and a full selection of Eggs benedict plates. Come back around lunchtime to enjoy one of their expertly crafted sandwiches or pasta plates. For dinner, you can dine on plates of Chinook king salmon or oven-roasted pistachio-crusted rack of lamb. They serve each of their wines in a glass carafe dispensed from their custom wine system to ensure freshness and the best possible flavor.
4. Willie's Modern Fare
Start your culinary adventure at Willie's at the casual lounge for a creative cocktail or wine from their curated list. Then enjoy a delicious dinner in the fine dining room or the expansive outdoor patio. Executive Chef Richard Perez and his staff specialize in classic cuisines with a modern twist like Sea Scallops with sweet potato puree and pomegranate gel or red wine braised Wagyu Beef Short rib. Willie's is also a popular Sunday brunch spot in Rancho Mirage featuring Roast Garlic Bloody Marys, Mimosas and a decadent brunch fare.
5. Catalan Mediterranean
Farm-to-table cuisine shines at Catalan Mediterranean Restaurant, Rancho Mirage's vibrant tapas eatery. Walk into the dining room for a late dinner, and you'll feel as if you have been transported to Barcelona. The paella is sublime, as is the pan-roasted wild salmon. The fresh flavors of diver scallops are complemented perfectly by the robust wine and champagne choices, while the creative tapas menu makes casual dinner with friends a celebratory occasion. Escargot-style roasted mushrooms, garlic shrimp, and goat cheese-stuffed peppers with champagne vinaigrette rank as guest favorites.
6. The Penney
At cosmopolitan bistro The Penney, the cocktails are sophisticated, the tropical vibes pop, and the retro style is irresistible. The Palm Springs of the 1950s comes alive with palm tree motifs, shades of green everywhere, and stunning indoor-outdoor patio spaces. This is vintage cool at its coolest – and the menu is no slouch, either. American cuisine enjoys a global influence, with dishes like cacio e pepe and sea bream crudo with dashi and orange ponzu. The American classics are here, as well, with a chilled lobster cocktail and raw oysters with horseradish. The San Jacinto Mountains keep watch in the distance, and the Desert Island lakes create a beautiful setting.

Terri Munselle has spent 25+ years helping buyers and sellers in the Greater Palm Springs area, which encompasses Palm Springs, Palm Desert, Rancho Mirage, La Quinta and Indian Wells. Her knowledge and connections as a resident expert will be a tremendous asset for you. Contact her today.